12.02.2018
In the last edition of the survey on the largest barriers for doing business in Poland, entrepreneurs of the SME sector put legal instability first, followed by excessive bureaucratic obligations and high labour costs. The research was carried out by Maison&Partners on behalf of the Union of Entrepreneurs and Employers.

"For a very long time now, we have consistently been repeating that the biggest obstacle to running a company in Poland is its complicated and duplicative law. As many as 76% of respondents share this view. For us, entrepreneurs, it is not about lower tax rates, but about simplifying the law and making it more understandable. For years, the Union of Entrepreneurs and Employers has been appealing to the government in this matter and this is not about long-lasting and arduous activities, the effect of which are only further provisions and regulations. What we need is political will to make a radical change," commented Cezary Kaźmierczak, President of the Union of Entrepreneurs and Employers.

The following obstacles to running business activity in Poland were listed: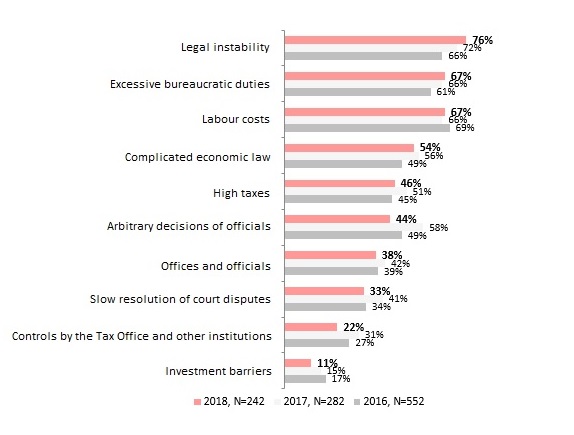 Maison&Partners for the Union of Entrepreneurs and Employers, January 2018, N: 242, survey conducted among a representative group of the SME sector with up to 250 employees.
Entrepreneurs listed the above-mentioned barriers, indicating those which in their opinion cause the most difficulties in running a company. The list of Top 5 barriers includes the following labour costs (32%), legal instability (18%), excessive bureaucratic obligations (11%), overcomplicated economic law (10%), and high taxes (10%).

"Although the situation on the Polish labour market is as of now quite stable, which is confirmed by our latest ZPP Busometr survey, it is a fact is that high non-wage labour costs impact both employers and employees in a negative way," says Cezary Kaźmierczak. "Let entrepreneurs themselves testify as to how big a problem high labour costs are. As many as 67% of businessmen and businesswomen indicated this factor as a barrier."

70% of entrepreneurs in the small and medium-sized enterprises sector recognised the lack of financial resources (e.g. resulting from too high employment costs) as the most important reason for not hiring more people.

Furthermore – among the most important barriers for the development of companies in Poland – the following were named: vagueness of legal provisions (82%), unfavourable labour law (66%), and administrative duties (51%).

"The government ought to find those key factors significant that would encourage the Polish people to start their own businesses. Most respondents, as many as 61%, wish the period of preferential payment conditions to the Polish Social Insurance Institution were extended. We hope that the Act on Small Economic Activity will reduce the scale of the problem related to setting up and running your own business in our country" summarised Cezary Kaźmierczak.